Remember that the practice of Facilitating Meaningful Math Discourse is based on four other effective math teaching practices: 1. Posing Purposeful Questions, 2. Supporting Productive Struggle, 3. Eliciting Student Thinking and 4. Using and Connecting Mathematical Representations.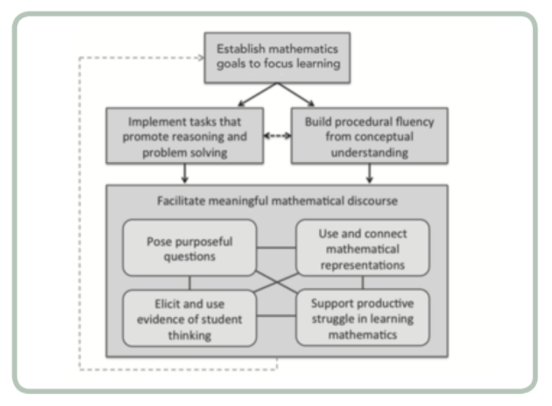 At the beginning of the school year teachers begin to establish routines and expectations that will eventually lead to all students being engaged in meaningful discourse around the goal of the lesson. The "No hands up" rule you considered last week is one way to set this expectation. Another consideration is to always provide sufficient time for students to think. When you ask a question to the entire class or to an individual team (that they have not already thought about) always pause and give some think-time. Additionally you may even allow for students to discuss the question with another student before replying.
The common strategy of Think-Ink-Pair-Share provides built in think-time and is useful in many different formats each and every day to structure this wait time into any lesson. Asking students to ink (write out their thinking) allows for extra accountability in the process and allows you as a teacher to actually see what they are thinking about. You can then use student responses as a springboard to spark more mathematical discourse.